PROJECTS
Music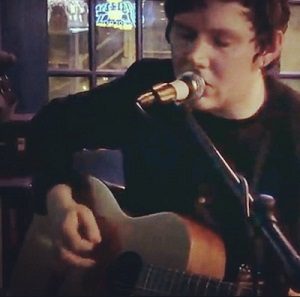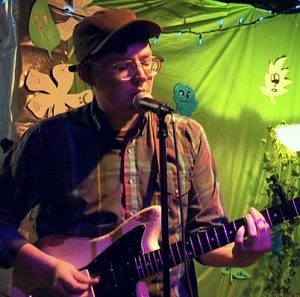 Solo/One-Off Projects
2016 – Names of the Hare digital single (Self-Released)
2017 – Whelped the Runts digital collection (Self-Released)
2017 – Bruxeria digital collection (Self-Released)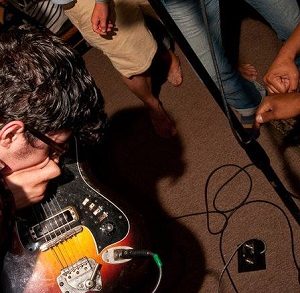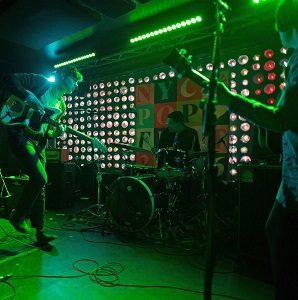 Bent Shapes (formerly Girlfriends)
2009-2017
2009 – Girlfriends – Girlfriends (Cake Time)
2010 – Girlfriends – Good to Be True (single) (Self-Released)
2010 – Girlfriends – Gov't Seizure 7″ (Aurora Seven Records)
2011 – Girlfriends – Cave Kids 7″ (Black Bell Records)
2012 – Girlfriends – Cull Shorts collection (Cake Time)
2012 – Bent Shapes – Boys to Men 7″ (Self-Released)
2013 – Bent Shaes – Feels Weird (Father/Daughter Records)
2014 – Bent Shapes – 86'd in '03 7″ (PIAPTK Records)
2016 – Bent Shapes – Wolves of Want (Slumberland Records)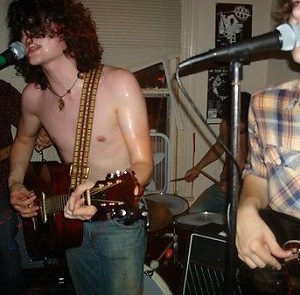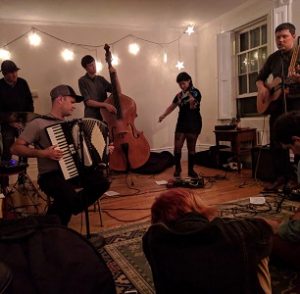 Christians & Lions
2004-Present
Discography:
2006 – Christians & Lions – More Songs for Dreamsleepers & The Very Awake (Acoustic + Full-Band)
2007 – Christians & Lions – Gimme Diction (single) (ECA Records)
2009 – Christians & Lions – Bird's Milk EP (Floating Garbage Continent)
2019 – Christians & Lions – Young Familiar (Floating Garbage Continent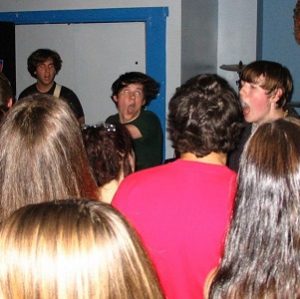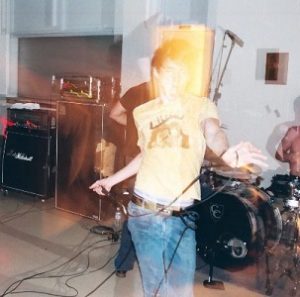 Other
2003 (officially released in 2012) – The Receiving End of Sirens – Songs // 2003 (Photo Finish Records)
2004 – The Lido Venice – Songs Written Around a Campfire in the Belly of a Whale (ECA Records)
2005 – Sharp Teeth – S/T (Tour Demo, Self-Released)
2008 – Baixa – Dirty Flow From the Hyper-Extended Hustle Muscle (Asteroid M Project / Floating Garbage Continent)
Podcast
The New England Unsettler – iTunes, SoundCloud, Boston Free Radio (2016-2017).
Writing
Comedy, music reviews, and volunteer copyediting at Spare Change News, The Boston Counter Cultural Compass.
2012 – I Got Stalked and It Was a Total Bummer (VICE)
2014 – Meta-Modern Headlines (McSweeney's Internet Tendency)
2014 – Nonexistent Showcases That May be Invoked to Convince Friends That You Played SXSW (The Tardy Eagle)
2014 – Barefoot in the Annuals (poetry, The Somerville Times)
2018 – Interview with musician Autumn Ehinger of Moon Racer, Love Language (Boston Hassle)

Visual Art
Drawing, prints, and fabric art. Zines (Cake Time, available at the Papercut Zine Library in Somerville, Mass.
Art shows:
2017 – Queef: A Novel at Hygienic Art in New London, Conn.
2012 – Me and My Friends Make Art II at Washington Street Art Center in Somerville, Mass.
2009 – Draw Drawings Every Day at Washington Street Art Center in Somerville, Mass.
Press, etc
Interviewed about my support for a new all-ages practice/performance space/restaurant that is hopefully opening up in Boston soon for The Dig.
CTRI Innovations Resident for July 22, 2018, excellent coffee and conversation with Jacob Berendes (Mothers News, Rhododendron Festival, etc etc).
Nina Corcoran interviewed Andy and I about Bent Shapes ending, also for The Dig.
Jerard Fagerberg wrote a really in-depth longform piece on my work for Impose Magazine a while ago. Still awestruck and very thankful for the opportunity to talk about my music at length.
Appeared on Episode 3 of This Has Been A Disaster, Thanks for Having Us, which was a really fun podcast run by author and musician Ryan Walsh and author Steve Almond years ago. It was a blast.